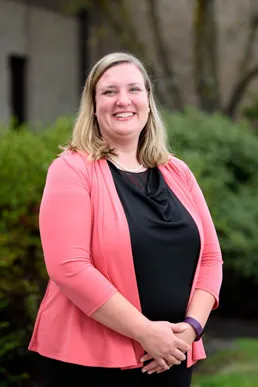 Board Certified Pediatric Nurse Practitioner
Joined HPA: 2008
Graduate Education: Yale School of Nursing, Masters of Science, Nursing
Undergrad: University of Massachusetts - Amherst
Ms. Trowbridge is a native of Holyoke, growing up in Holyoke and graduating from Holyoke High School. After graduating from UMass Amherst with a bachelors in both journalism and public health, she knew that she wanted to pursue an advanced degree in nursing. She attended nursing school, getting her masters in nursing focusing on pediatrics from Yale School of Nursing. She worked at the Yale Health Plan as a nurse in the pediatrics department before joining Holyoke Pediatrics in 2008. Ms. Trowbridge has gone on to further certify as a Certified Lactation Counselor through the Academy of Lactation Policy and Practice with Healthy Children's Center for Breastfeeding, and has a special interest in breastfeeding and working with families with young children.
Ms. Trowbridge enjoys working as a pediatric nurse practitioner because she is able to work closely with families from birth through early adulthood, and enjoys watching families and children grow and gain confidence in taking care of their own health. She is certified by the Pediatric Nursing Certification Board and is member of the National Association of Pediatric Nurse Practitioners.
Ms. Trowbridge is married and has two young children. In her free time, she loves spending time with her family and friends, likes to cook and bake, and enjoys travelling to different points of interest around New England.
Ms. Trowbridge sees patients 1 day a week in our South Hadley office and 2 days a week in our Holyoke office. She is accepting new patients.